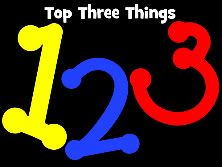 Simply 2nd Resources
is having a linky party to share the top three things we are going to focus on in our classrooms this year. Here are my top 3:
1. Math Workshop: It is my number 1 goal this year to make math workshop work in my classroom. In Chicago, our school day is so short that I have only had 50 minutes at best in the past to teach math. I need to find a way to squeeze out 10-20 more minutes a day in order to make math workshop work. I have read Debbie Diller's book and read so many great ideas on blogs. My hope is to start math with a quick 5 minute meeting to go over anything new at the math work stations/ to get the stations organized/ do a quick read aloud...maybe I'm being too ambitious to say I only need 5 minutes for this! Then, 20 minutes of workshop, where students can participate in one activity and I can meet with one small group. Next, I will teach the Everyday Math lesson whole-group for about 20 minutes. Finally, my students will have about 10 minutes for independent practice of the "new math" in their math journals. During this time, I will walk around to help those tier 2 and 3 students that need more support. What do you think? Am I missing anything? I know I need about 70 minutes for this to work...which I totally don't have...but I am hoping to "make it work" in the words of Tim Gunn :)
2. The Phonics Dance: I just learned about the Phonics Dance through the fantastic bloggers I follow...I love blogging :) Again, scheduling is going to be a challenge. Given that I am adding something to an already packed day, inevitably something has to go. But, what will that be? Right now I am thinking of dedicating one round of mini-lessons during the Daily 5 to the Phonics Dance, which means I will have to squeeze in all of my vocabulary, fluency, and accuracy mini-lessons during one round rather than splitting between two, if that makes sense. So Daily 5 will look like this:
Comprehension mini-lesson
Round 1 literacy stations/ Guided Reading
Phonics Dance mini-lesson
Round 2 literacy stations/ Guided Reading
Accuracy or Fluency or Vocabulary mini-lesson
*I am thinking M and T= vocabulary W and TH= accuracy F=fluency??
Round 3 of literacy Stations/ Guided Reading
All I know is that my students will just love the Phonics Dance, and I have heard nothing but how great it works...so I will just have to make sure I am getting to everything I need to in that third mini-lesson! If anyone has any better ideas though, I am completely open to hearing them!!!
3. Word Walls: I have always had a word wall in my classroom, and when I taught first grade I used it everyday in an interactive way. However, for the past two years in second grade, I have gotten away from that. Last year was rock bottom. We even stopped adding words to the word wall at one point...really embarrassing! This year, I want to make sure my students use the word wall as a resource and that I use it as a scaffolding tool for word recognition and for spelling. That's why I am going with the popcorn word theme for the word wall this year, and also why I am not going to put the HFW from our basal up on the wall - and just focus on the 2nd grade Dolch word list (and Hunk and Chunk exemplars). I think it will be far more meaningful and engaging!
I can't wait to post pictures...but I can't get into school for another week because they are redoing the floors in my hallway. We don't start school until after Labor Day, but I am very anxious to get to work!
I can't wait to read about all of your top 3 things you want to work on this year!